LaLiga club, FC Barcelona became the first sports club to have over 10 million YouTube subscribers. The NBA (14.7million) is the only sports channel that has more followers than FC Barcelona on YouTube.
In honour of Barça's achievement, in the next few days, YouTube will be presenting the club with the Diamond Creator Award, a metal-plated trophy with a glass play button that is given to all channels that break the 10 million barriers.
Barça was one of the first clubs to be present on YouTube, has appeared on the site for the first time in February 2006. The growth since then in terms of subscribers has been relentless. By June 2017, it had become the first club to have over three million subscribers, moving ahead of the world's top sports competitions (NFL, Olympics, LaLiga and Bundesliga), with the sole exception of the NBA, and also all of the other top football clubs from around the globe. In September 2018, it became the first club to reach 5 million subscribers.
Barça ended the 2018-19 season with a total of 7.2 million subscribers (2.6 million more than in 2017-18), and between 1 July 2019 and 30 June 2020, that number rose to 9,782,472. Now, with 2020-21 about to begin, it has moved above 10 million, confirming its position as the out-and-out leader among sports clubs on YouTube. The channel has now had more than 65 million hours of viewership of its channel.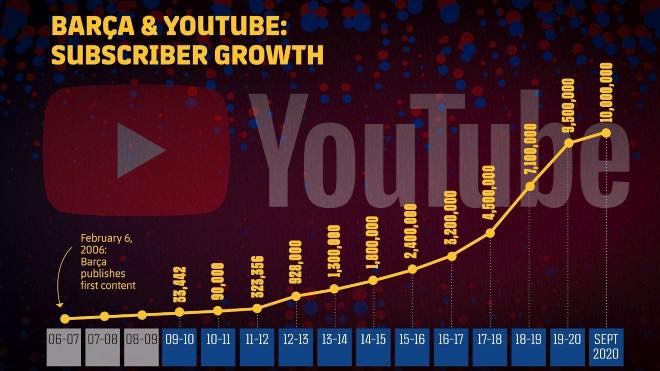 But aside from the symbolic figure of 10 million, Barça has extended its lead on its main competitors, has moved way ahead of second-placed Real Madrid, with 5.92 million, while the football teams following behind the Big Two from La Liga are Flamengo (5.55million), Liverpool (4.98), Manchester United (3.21), Juventus (2.88), Manchester City (2.72), PSG (2.56), Chelsea FC (2.1) and Arsenal (1.96). By countries, Barça has the most followers in the United States, Spain, Brazil, Indonesia and Mexico.
Aside from subscribers, the other main metric for analysing user interest is video views. Barça also leads the way in this category and does so season after season. In 2019/20, the FC Barcelona YouTube channel got 458 million views of its content, a 30% increase on the previous season, and moving it well ahead of its competitors: Liverpool (419 million), Manchester United (258), Flamengo (161) and Real Madrid (157). Since it published its first video in 2006, Barça has had more than 1,700 million views.
Speaking about the achievement Dídac Lee, director and head of the FC Barcelona, said, "On YouTube, we are committed to reaching our fans through contents designed and created specifically to feed the interests of this site's audience, and by adapting formats to the channel's specificities. This success reinforces a consolidated long-term strategy that has put us at the forefront with standards of excellence that we hope to maintain."
"The recent opening of Barça Studios should help us to stay ahead, and at the same time make our content compatible with our own audiovisual products like the recently created Barça TV+ service," he added.