New Zealand have been crowned as the Champions of the inaugural ICC World Test Championship. The Black Caps fully deserve the title after playing some fantastic cricket not just in the final but also throughout the last two years in the run-up to the final.
It's a fitting tribute to one of New Zealand cricket's finest servants – BJ Watling who will depart with a winner's medal around his neck. Two years ago at Lord's when New Zealand were defeated bitterly in the World Cup final, everyone wanted them to win something after facing multiple defeats. The 'Good Guys' have finally done it.
Let's take a look at what did New Zealand correctly in the final or also where did India lose the plot?
1. Line up
One of the most important points in the final was the starting eleven of either team. And while India opted for two spinners, New Zealand kept it simple and went ahead with their four pacers.
It needs to be said that in such overcast conditions, Kohli should've included one more pacer instead of Jadeja who hardly had any assistance from the conditions. Ashwin managed to trouble the left-handers but was absolutely neutralised against well-versed players like Kane Williamson and Ross Taylor.
This was the first overall advantage New Zealand created for themselves- backing their pacers in favourable playing conditions.
2. Responsibility from individuals
One of the key differences between the two sides which arise from a batting perspective was the responsibility to play the long innings. While on one hand New Zealand's Kane Williamson, Devon Conway or even Tom Latham grinded out for runs, India's batsman simply gave away their wickets.
In both innings, Rohit Sharma and Ajinkya Rahane fell extremely cheaply after being well settled in the middle. Rahane especially will be extremely disappointed with himself after throwing away his wicket in the second innings.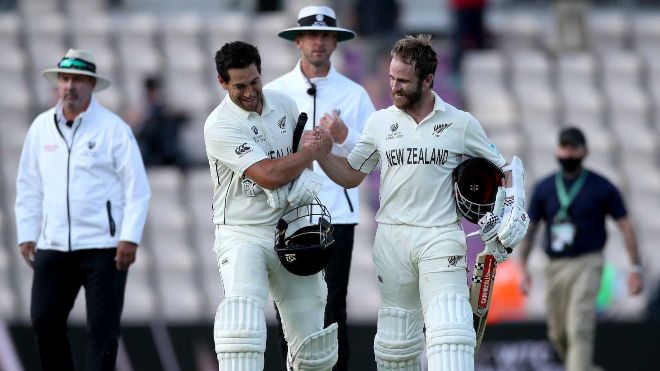 For the black caps, Kane Williamson showed what true batting in a Test match looks like- grit, determination and severe patience. The way he batted in the final innings is a testimony to the solid player he is. Again New Zealand batsman played responsible shots whereas the Indians player carelessly.
3. Consistency in bowling
Probably New Zealand's best find in recent times, Kyle Jamieson was on absolute fire in the final. The near about 7-foot pacer was spot on with his line and length and reaped the rewards for his consistency.
This brings us to the next point wherein India lacked against New Zealand. For all the hype surrounding Indian pacers, they hardly performed at their required level when needed the most. When you compare with the number of times New Zealand's fast bowlers kept the Indian batsman under continuous pressure, India's unit was nowhere near.
Jasprit Bumrah was totally absent and far off from his natural self. Mohammed Shami was good in the first innings but failed to produce a spectacular spell in the second innings.
4. Teamwork
The final point in this piece is – teamwork. New Zealand's bowlers were not focused on individual numbers but instead were hatching an overall plan for each batsman. All of them were hunting in a pack and setting up one player for another.
If you look at how Jamieson and Southee worked together you would see that Tim Southee regularly made the batsman play the outswing for Jamieson to come in and bowl that big inswing. Moreover, Neil Wagner pushed the batsman on the back foot, Trent Boult brought the batsman forward with his swinging fuller length deliveries.