The 16th edition of the Indian Premier League (IPL 2023) is round the corner and all the teams have almost signed all the sponsors.
Before we take a look at the team sponsors, let us see the official sponsors and partners of IPL 2023.
IPL 2023 Sponsors
Title Sponsor: TATA
Official Broadcaster: Star Sports
Official Digital Streaming Partner: JioCinema
Official Partners: Dream11, Unacademy, Cred, Upstox, Herballife, Visit Saudi and RuPay.
Umpire Partner: PayTM
Official Strategic Timeout Partner: Ceat

IPL 2023 Team Sponsors List
IPL 2023 Chennai Super Kings Sponsors
Principal Sponsors: TVS Eurogrip, India Cements, Gulf, British Empire, SNJ 10000, Jio and Astral Pipes.
Merchandise Partners: ICICI Bank and Fancraze.
Other Partners: Vision11, Coca-Cola, Sunfeast Supermilk and playR.
Official Drone Partner: Garuda Aerospace.
Also Check: TATA IPL 2023 Points Table
IPL 2023 Delhi Capitals Sponsors
Principal Sponsors: JSW, Greenpanel and DP World.
Associate Sponsors: Royal Stag, JBL, Zed Black, Mahindra, Bisleri and Jio.
Official Partners: FanCraze, BKT Tires, Dream11, Bira91, Fancode Shop, JioCinema and FeverFM.
Official Merchandise & Lifestyle Partner: Wrogn Active.
Exclusive Ticketing Partners: PayTM Insider and PayTM.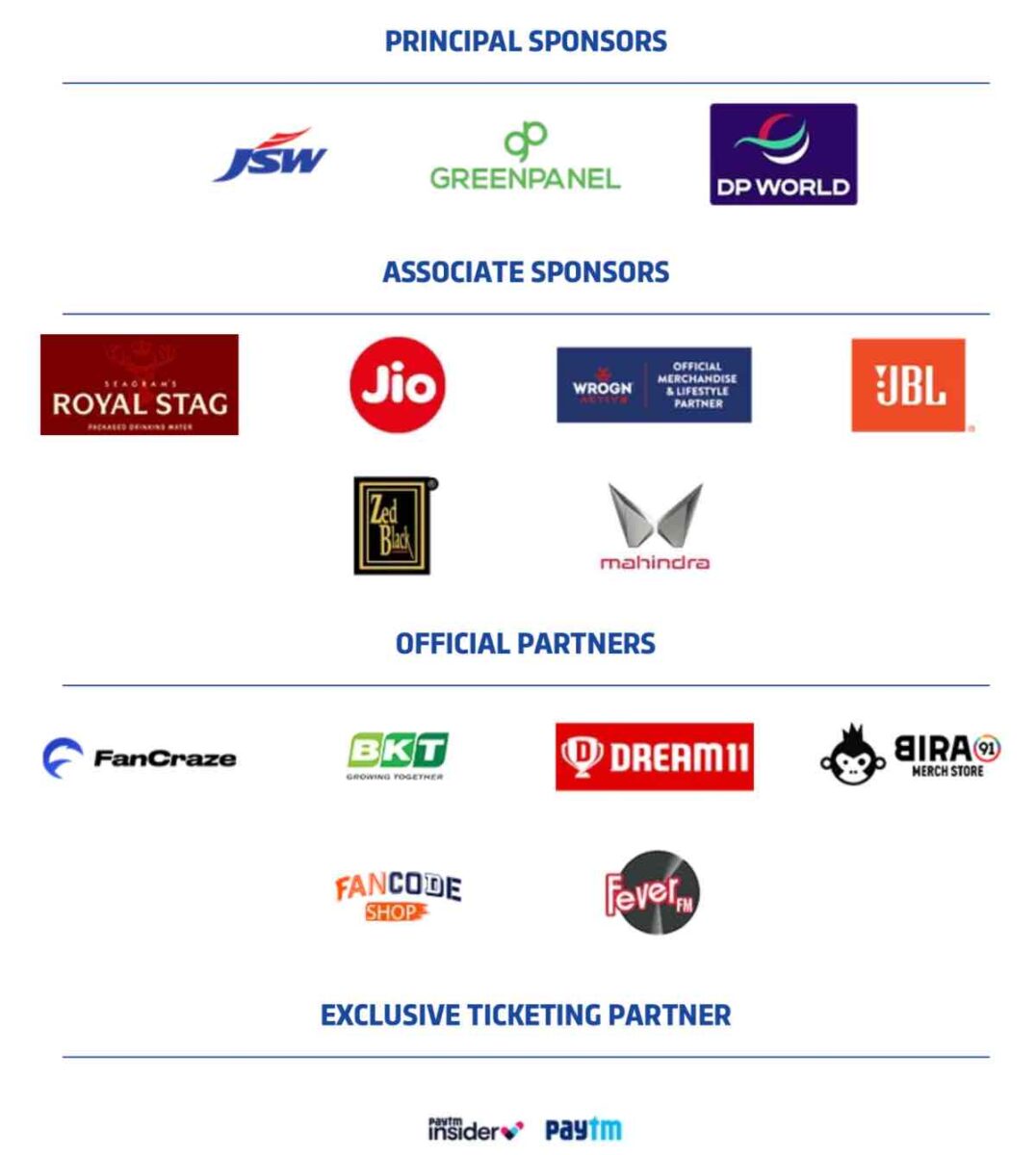 IPL 2023 Gujarat Titans Sponsors
Principal Sponsor: Ather Energy.
Associate Sponsors: BKT Tyre, Capri Global, Reliance Jio, Astral Pipes, Simpolo Ceramics, acko, Equitas Small Finance Bank, Timex and Rayzon Solar, Rario.
Official Partners: Dream11, JioCinema, Bisleri, boat, Hammer Ice Cream, Croma and Nestle Munch.
Exclusive Ticketing Partners: PayTM Insider and PayTM.
Merchandise Partners: EM, Fancode Shop and Cybeart.
Radio Partners: FM 95 Radio One, TopFM and Radio City 91.1 FM.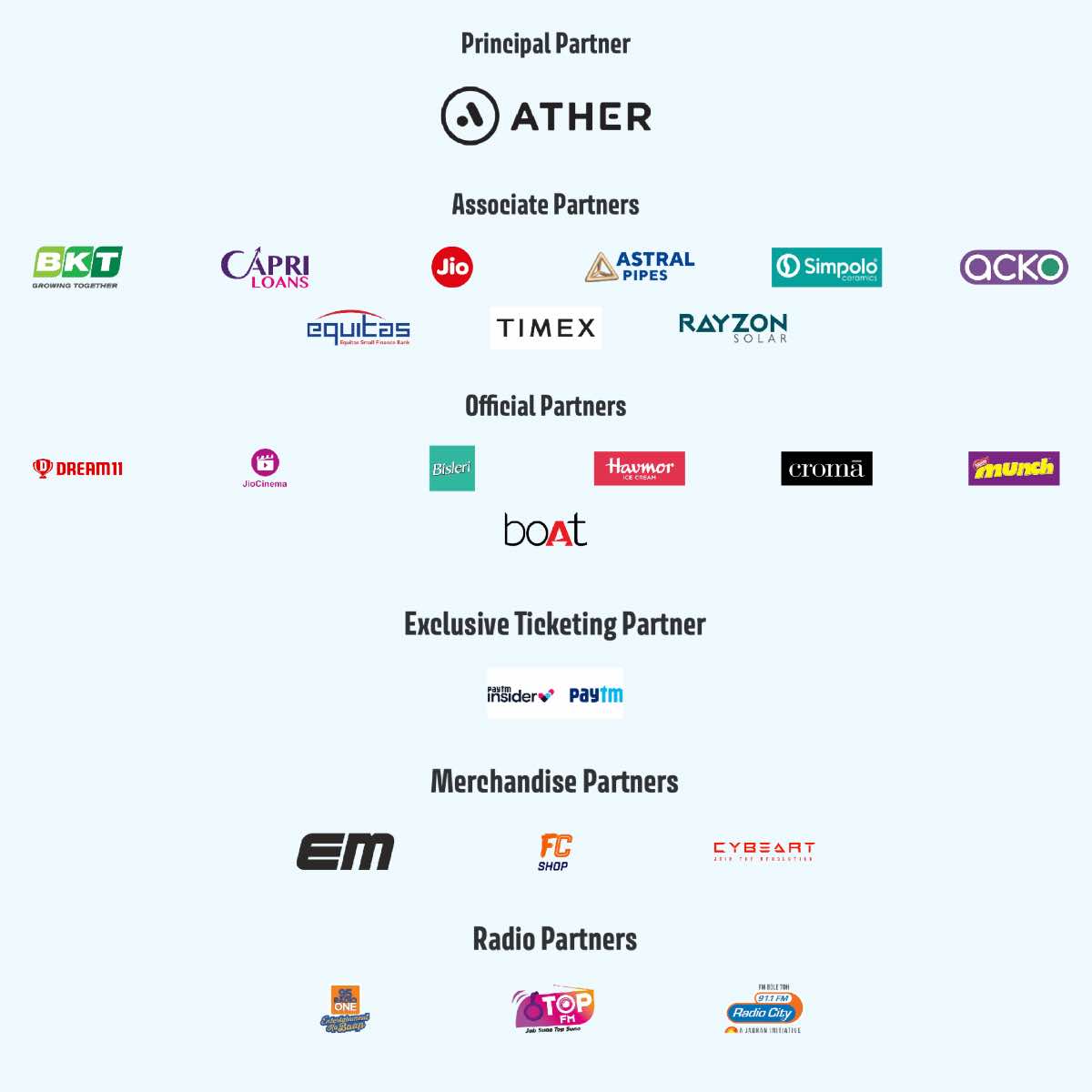 IPL 2023 Kolkata Knight Riders Sponsors
Principal Sponsors: MyFab11 and BKT.
Official Sponsors: Lux Cozi, Joy Personal Care, Money9, Jio, Royal Green, acko and SRMB.
Official Partners: ThumsUp, Mio Amore, HRX and Bira91.
Licensing Partners: The Souled Store, Lit-AF.In, EUME and Fancode Shop.
Media Partners: FeverFM, FM 94.3 Radio One, The Telegraph and Sampark.
Health Partners: Woodlands Hospitals.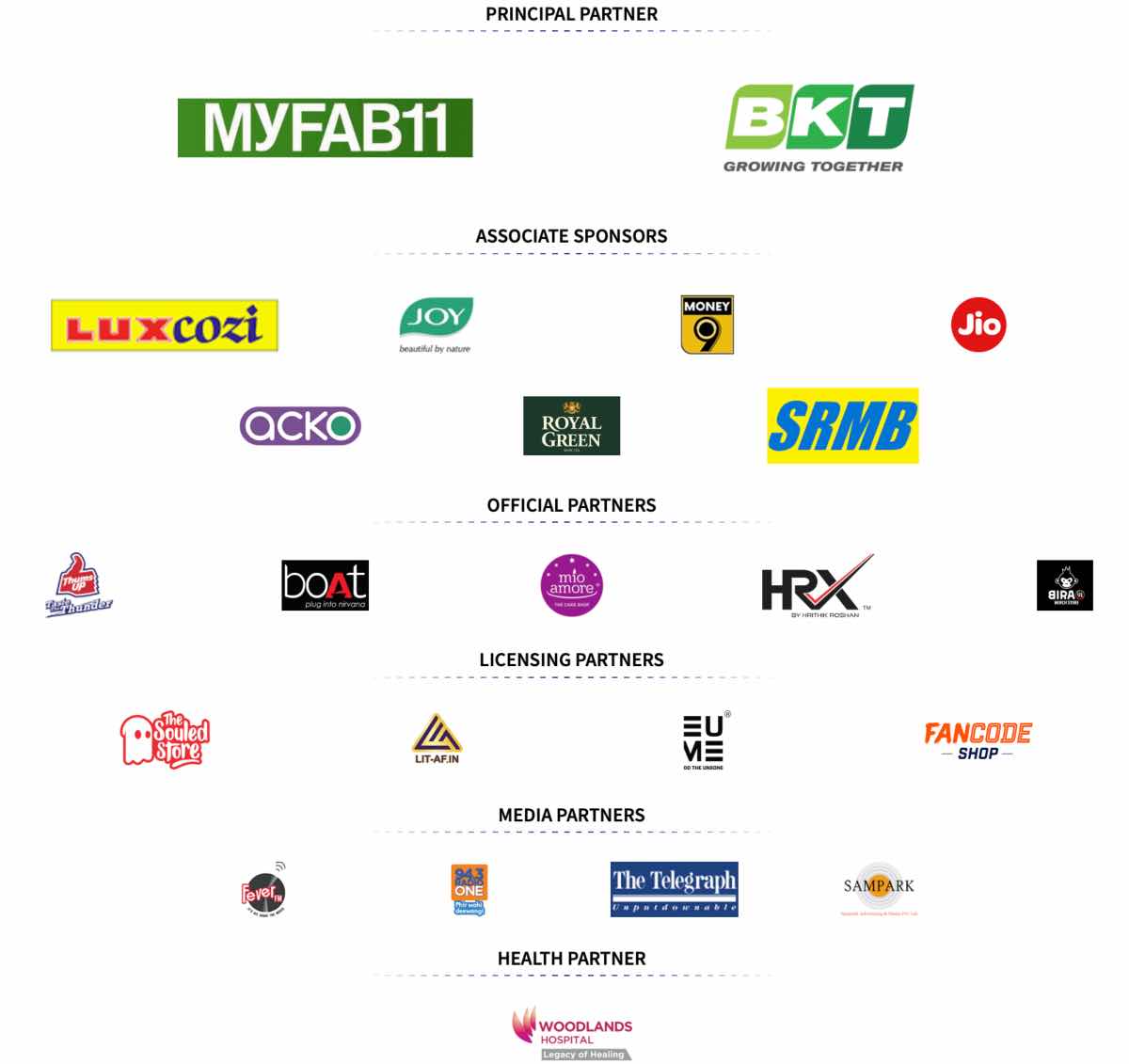 IPL 2023 Lucknow Super Giants Sponsors
Principal Sponsor: My11Circle
Other Sponsors: Shyam Steel, Greenply, Jio, Vida, Too Yumm, Bond Tite Adhesives, FanCraze, Royal Challenge, Kingfisher and Radio City FM.
Official Ticketing Partner: PayTM Insider
Official Merchandise Partner: The Souled Store, Alcis, Spencer's and Macmerise.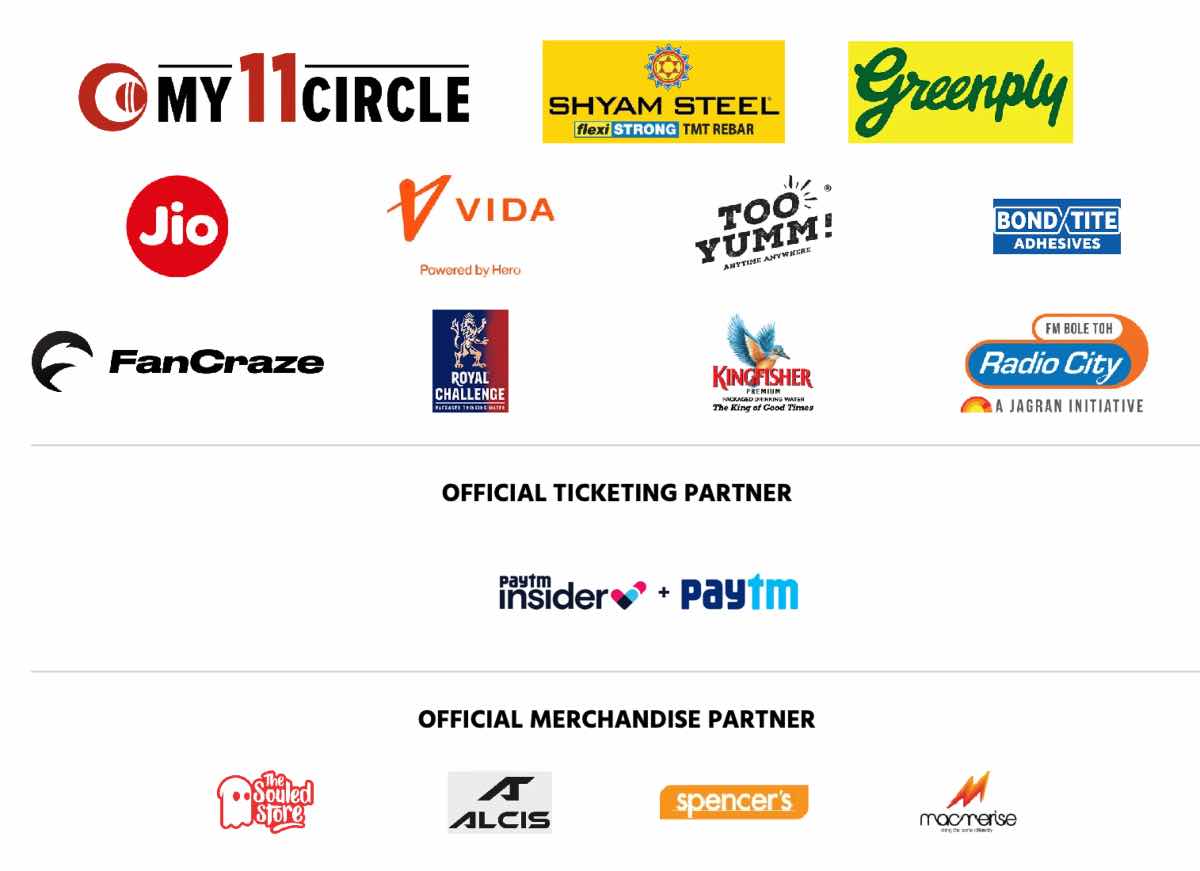 IPL 2023 Mumbai Indians Sponsors
Principal Sponsors: Slice and DHL.
Associate Partners: IDFC First Bank, Jio and Astral Pipes
Official Partners: USHA, JioCinema, Dream11, Garnier Men, Reliance Digital, Mahindra, acko, Royal Challenge, TeamViewer, Bisleri, Bira91, Max Life Insurance, BKT Tires, Performax Activewear and Bella Vita Luxury.
Merchandise Partners: Celio, Chupps, Cybeart, EUME, Fancode, Plaeto, playR and TheArena.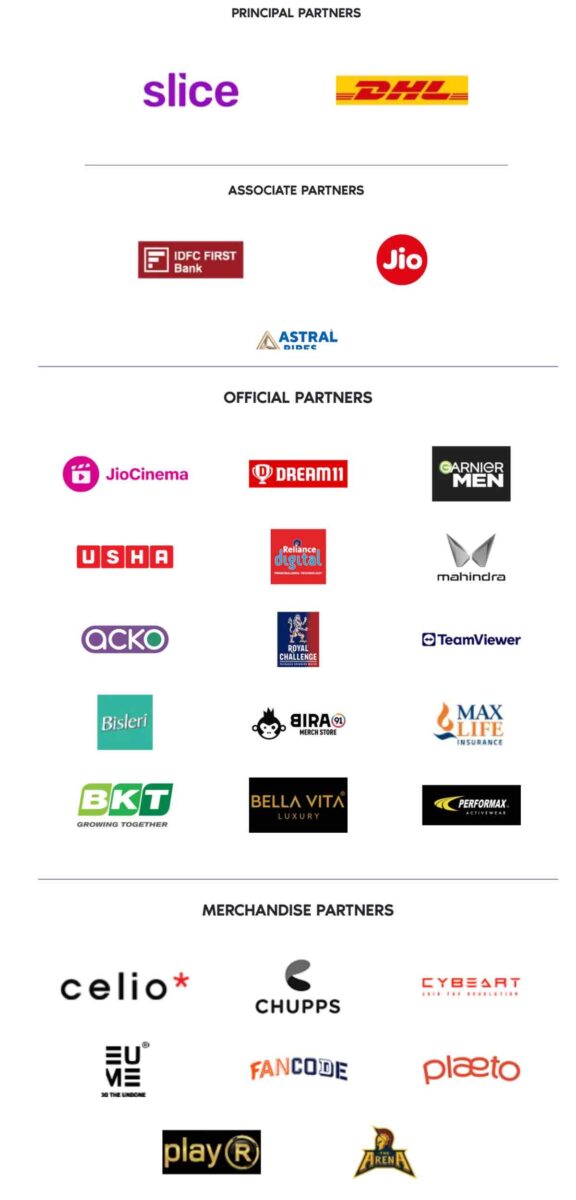 IPL 2023 Punjab Kings Sponsors
Title Sponsors: Ebixcash
Principal Sponsors: BKT Tyre, Lotus Herbals, Jio, All Seasons, Dream11 and Hindware.
Official Partners: Nestle Munch.
Official Digital Collectibles Partner: Rario
Official Kit & Merchandise Partner: T10 Sports
Fan Merchandise Partners: Fancode Shop, TheArena and PlayR.
Ticketing Partners: PayTM and PayTM Insider.
IPL 2023 Rajasthan Royals Sponsors
Title Sponsor: Luminous
Principal Sponsors: BKT Tyres, Dollar and Jio.
Official Sponsors: MCDowell's No. 1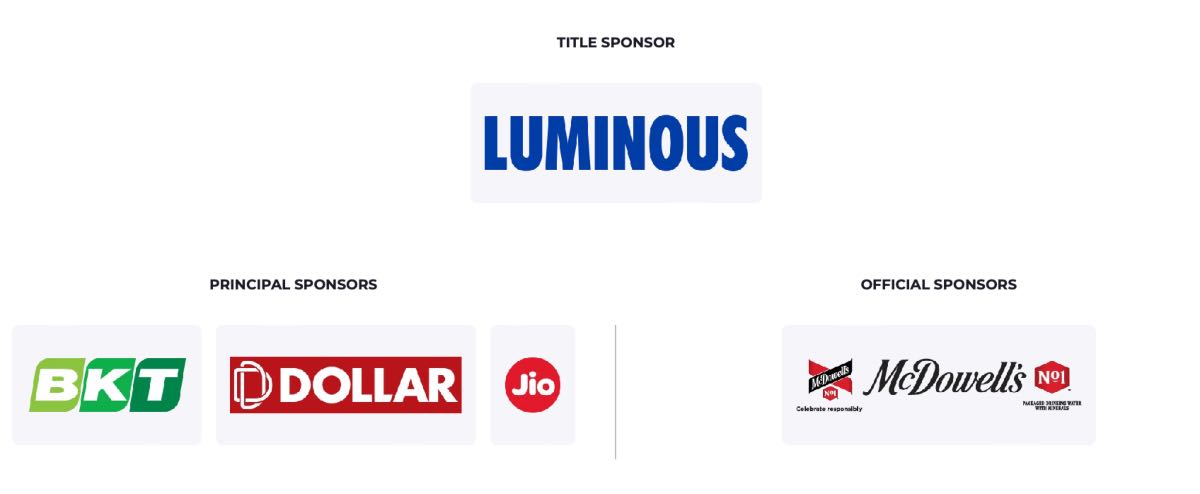 IPL 2023 Royal Challengers Bangalore Sponsors
Title Sponsors: Qatar Airways
Principal Sponsors: KEI Wire and Cables, Happilo and Jio.
Associate Partners: Puma, MPL, Hindware Italian, boAT, Equitas Small Finance Bank, Mahindra and Nippon Paint.
Official Partners: Eat Sure, Rario, Nestle Munch, Ampere, Restolex, Dream11, Bira 91, Royal Challenge, Manipal Hospitals, aryaka, 7up, ITC Master Chef, NVY, Fever 10.4FM, Bella Vita, JioCinema and Birla Estates.
Official Commercial Partners: DNA Networks.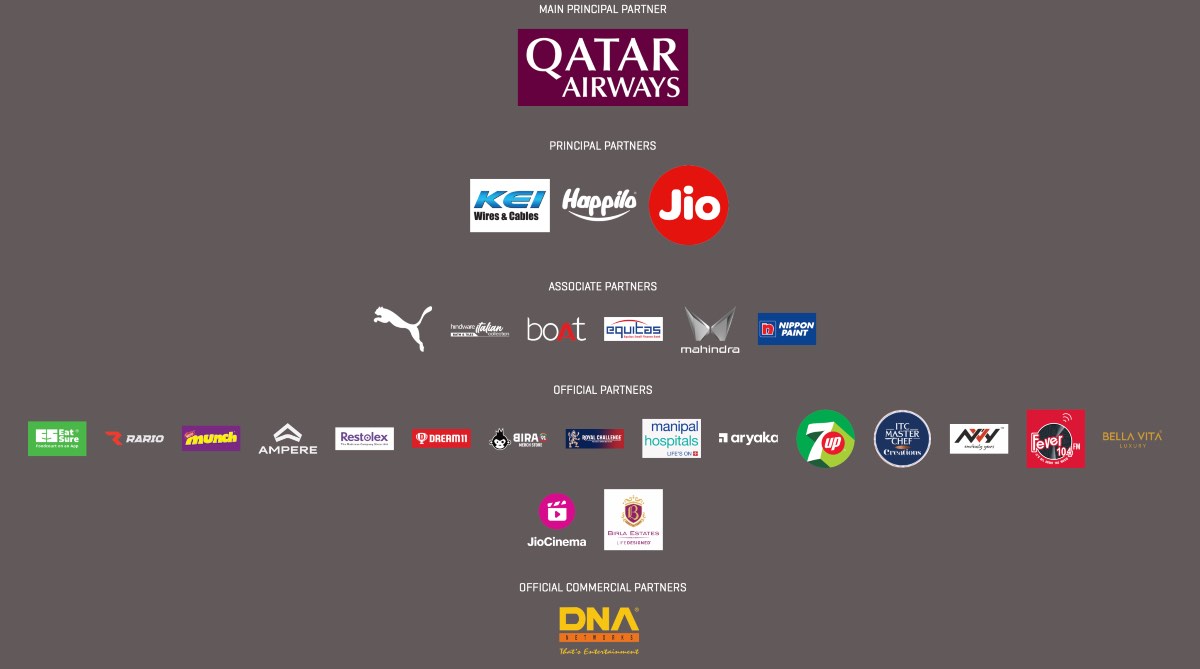 IPL 2023 Sunrisers Hyderabad Sponsors
Title Sponsor: FanCraze
Principal Sponsors: BKT Tyre (Official Tire Partner), Kuhl, Jio (Official Telecom Partner), TCL, Dream11 and Ebixcash.
Associate Sponsors: Bachpan (Official School Education Partner) and nbl (Simplify Partner).
Official Partners: Wrogn (Official Kit Partner), Fancode Shop (Official Fan Merchandise Partner), Campa (Official Pouring Partner), Dazller Eterna (Official Cosmetic Partner), BigAnt Studios (Official Gaming Partner), Royal Challenge (Celebration Partner), Mera Hoardings (Official Media Partner), Apollo Hospitals (Official Medical Partner), Red Fm 93.5 (Official Radio Partner) and Bira 91 (Official Partner).
Club Partners: Posh Nosh, Buffalo Wild Wings, Broadway, Skyhy, Forge and BRG.