The 15th edition of the Indian Premier League (IPL 2022) is round the corner and all the teams have almost signed all the sponsors.
Before we take a look at the team sponsors, let us see the official sponsors and partners of IPL 2022.
IPL 2022 Sponsors
Title Sponsor: TATA
Official Broadcaster: Star Sports
Official Digital Streaming Partner: Disney+Hotstar
Official Partners: Dream11, Unacademy, Cred, Upstox, Swiggy Instamart and RuPay.
Umpire Partner: PayTM
Official Strategic Timeout Partner: Ceat

IPL 2022 Team Sponsors List
IPL 2022 Chennai Super Kings Sponsors
Principal Sponsors: TVS Eurogrip, India Cements, Gulf, British Empire, SNJ 10000, Jio and Astral Pipes.
Official Sponsors: Dream11
Digital Partners: Amazon Pay and Aqilliz.
Pouring Partners: Amul Kool.
Radio Partners: FeverFM and HelloFM.
Merchandise Partners: ICICI Bank, Fancraze, Christy Textiles, Fanplay IOT, FullyFilmy, Atlasware, Klay Grill, Levista Instant Coffee, NAC Jewellers, nasher miles and The Souled Store.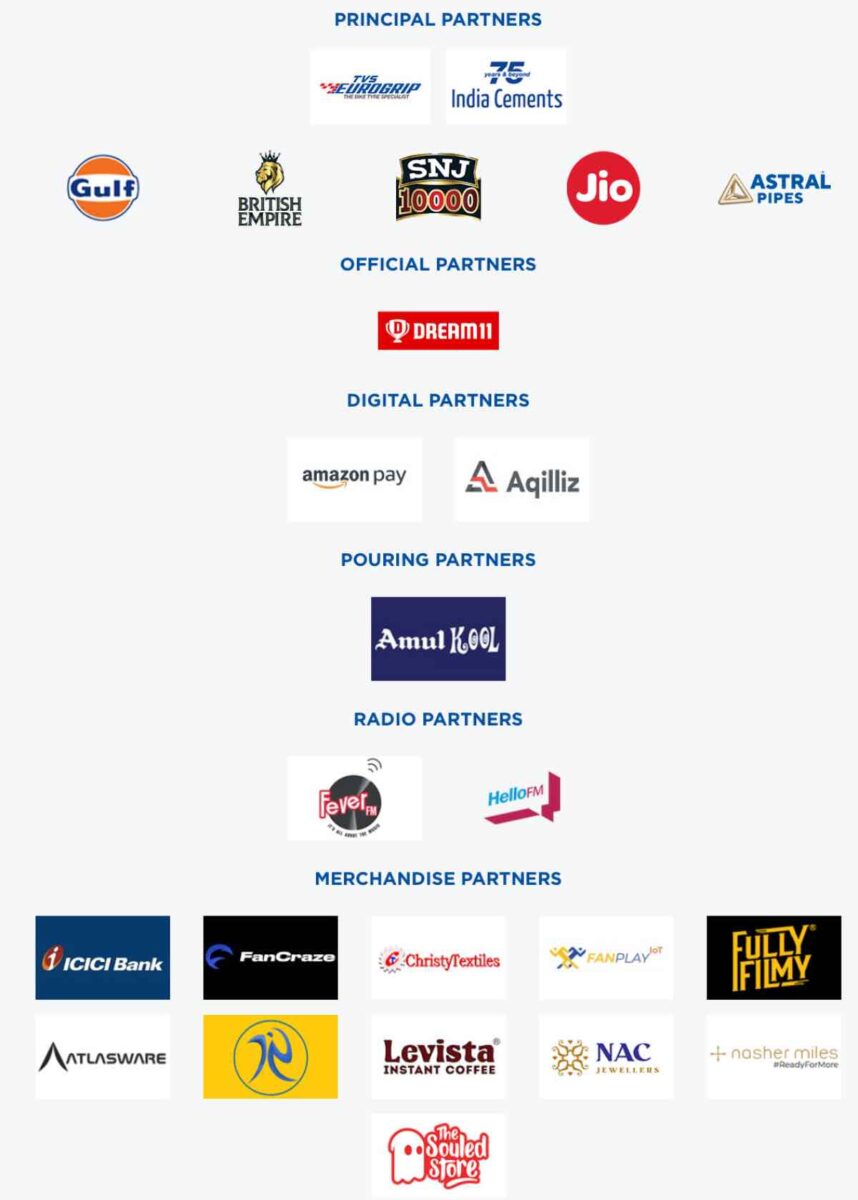 IPL 2022 Delhi Capitals Sponsors
Principal Sponsors: JSW, APL Apollo Steel Pipes, OctaFX and BOLT.
Associate Sponsors: acko, Royal Stag, RapiPay, Evolut, Cup Noodles, Jio and Dream11.
Partners: BKT Tires, Optimum Nutrition, Amul Kool, MyFitness Peanut Butter, Kotak, Fancode Shop and FeverFM.
Official Merchandise & Lifestyle Partner: Wrogn Active.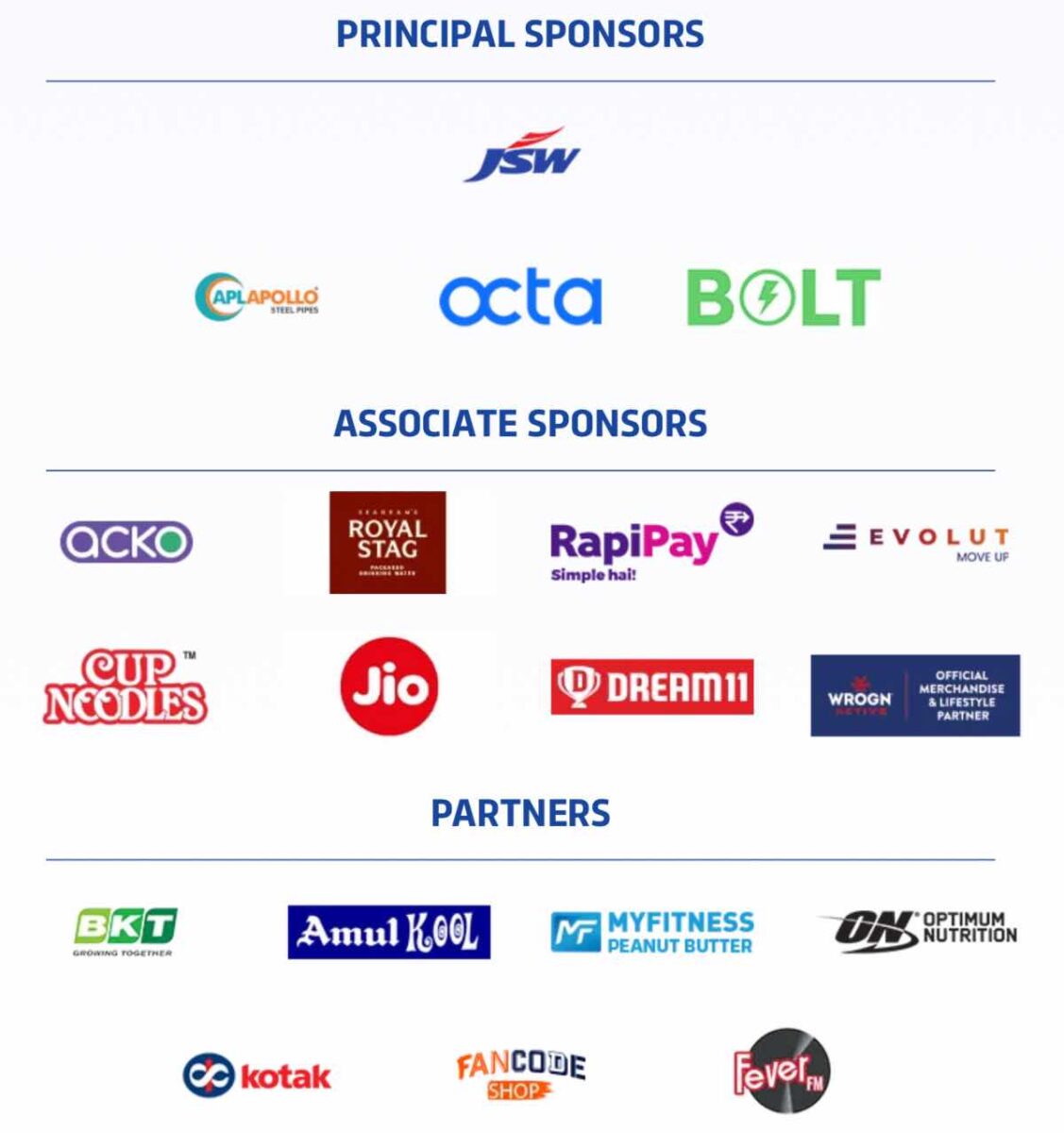 IPL 2022 Gujarat Titans Sponsors
Principal Sponsor: Ather Energy.
Associate Sponsors: BKT Tyre, Capri Global, Reliance Jio, Astral Pipes, Simpolo Ceramics, acko, toothsi, meesho and Fancode.
Official Partners: Dream11, boAT, Amul Kool, Kotak and Mirchi FM.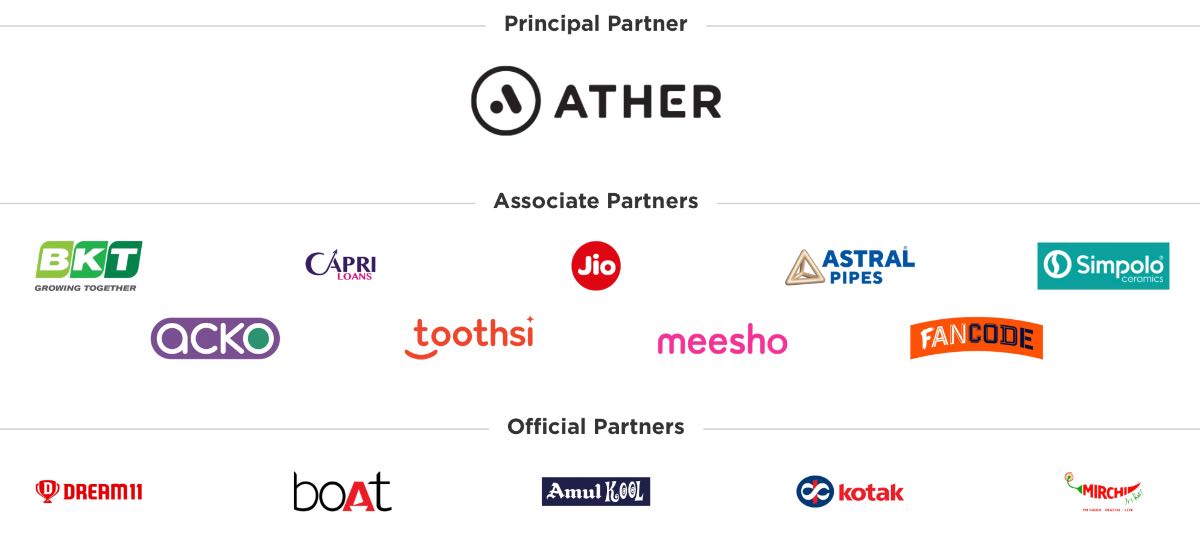 IPL 2022 Kolkata Knight Riders Sponsors
Principal Sponsors: WinZO and Unacademy.
Official Sponsors: Lux Cozi, TV9 Bharatvarsh, Joy Personal Care, Jio, 1 Finance, acko and Wrogn.
Official Partners: Mc Dowell's, mum h, LG, BKT Tyre, ThumsUp, Kotak, Mio Amore, Open and Rollick.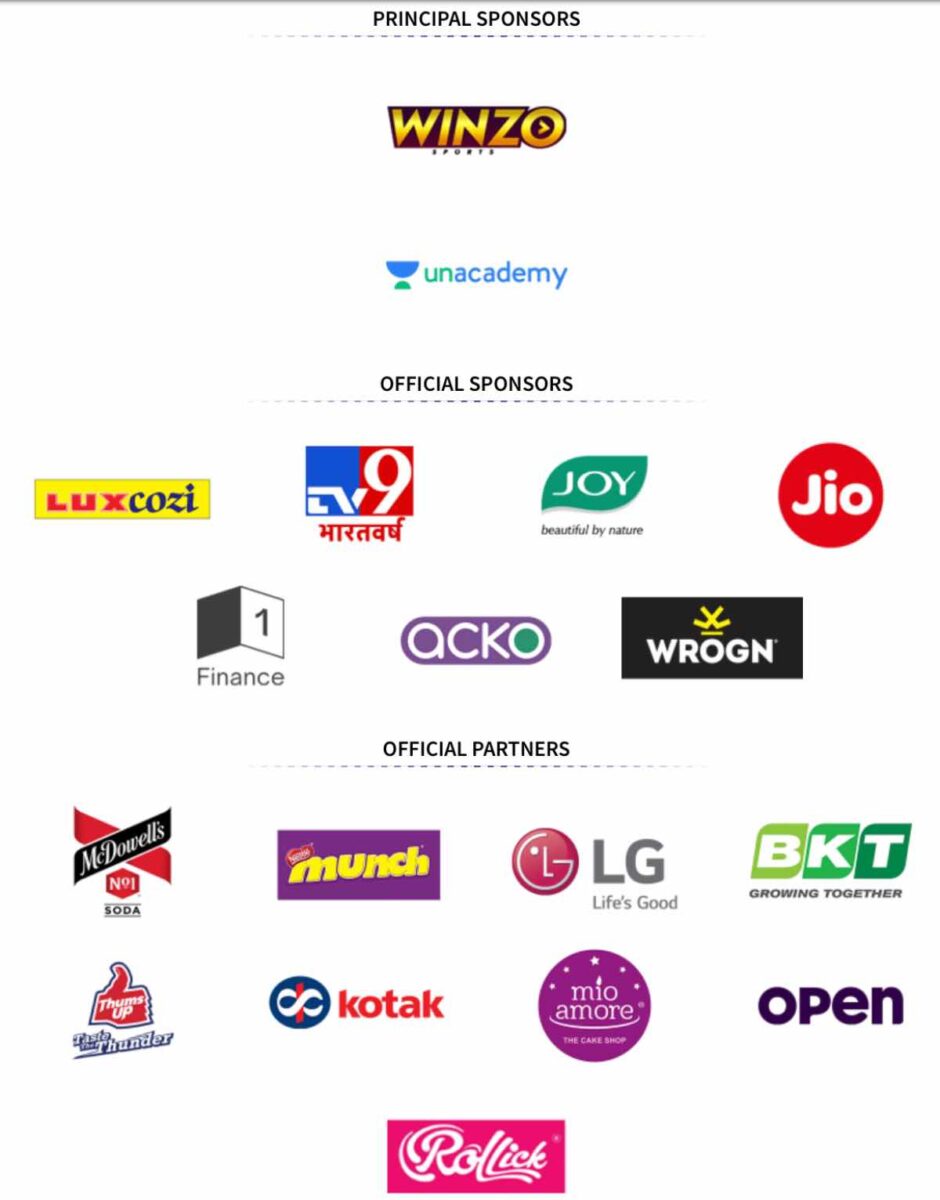 IPL 2022 Lucknow Super Giants Sponsors
Principal Sponsor: My11Circle
Other Sponsors: Greenply, Jio, acko, AORUS, GIGABYTE, Puma, Zee5, Tata Salt.
IPL 2022 Mumbai Indians Sponsors
Principal Sponsors: Slice and DHL.
Associate Partners: Marriott Bonvoy, Jio and Astral Pipes
Official Partners: meesho, Kingfisher, USHA, Dream11, Cadbury Dairy Milk, acko, Bombay Shaving Company, MCA Dowells, TeamViewer, BKT Tires, Amul Kool, Strata, Performax Activewear, esa (Reliance Foundation- Education & Sports for All), DNA Networks, Radio City 91.1 FM and FeverFM.
IPL 2022 Punjab Kings Sponsors
Title Sponsors: Ebixcash
Principal Sponsors: BKT Tyre, Lotus Herbals, Jio, All Seasons, Dream11 and boAT.
Official Partners: Bodycare and Kotak.
Official Kit & Merchandise Partner: T10 Sports
Merchandise Partner: Fancode Shop
Smile Partner: Colgate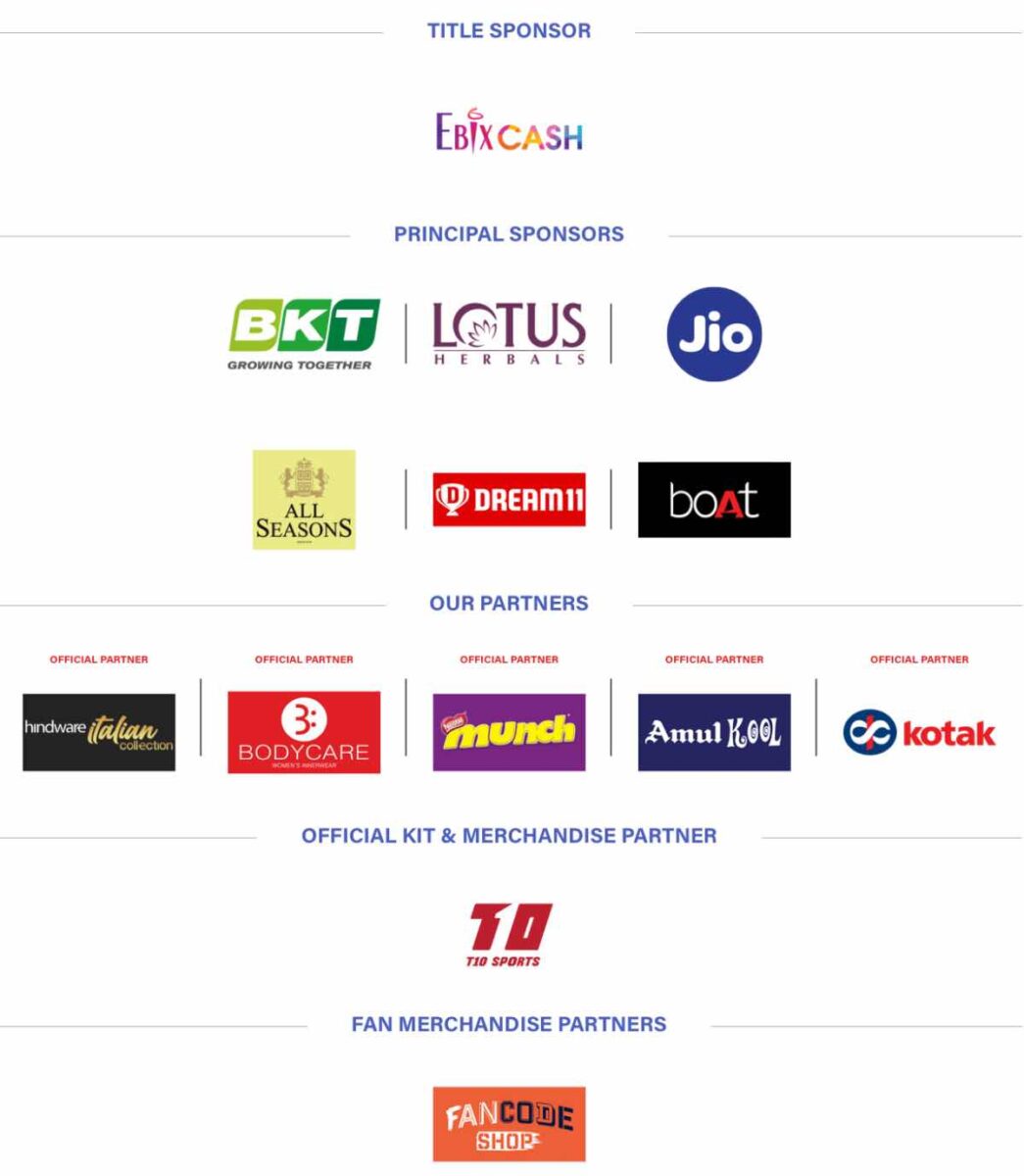 IPL 2022 Rajasthan Royals Sponsors
Title Sponsor: Happilo
Principal Sponsors: BKT Tyres, Dollar and Jio.
Associate Sponsors: Studds, One Moto India and Goel TMT.
Official Shopping Partner: meesho
Official Sponsors: Dream11 and Barbados.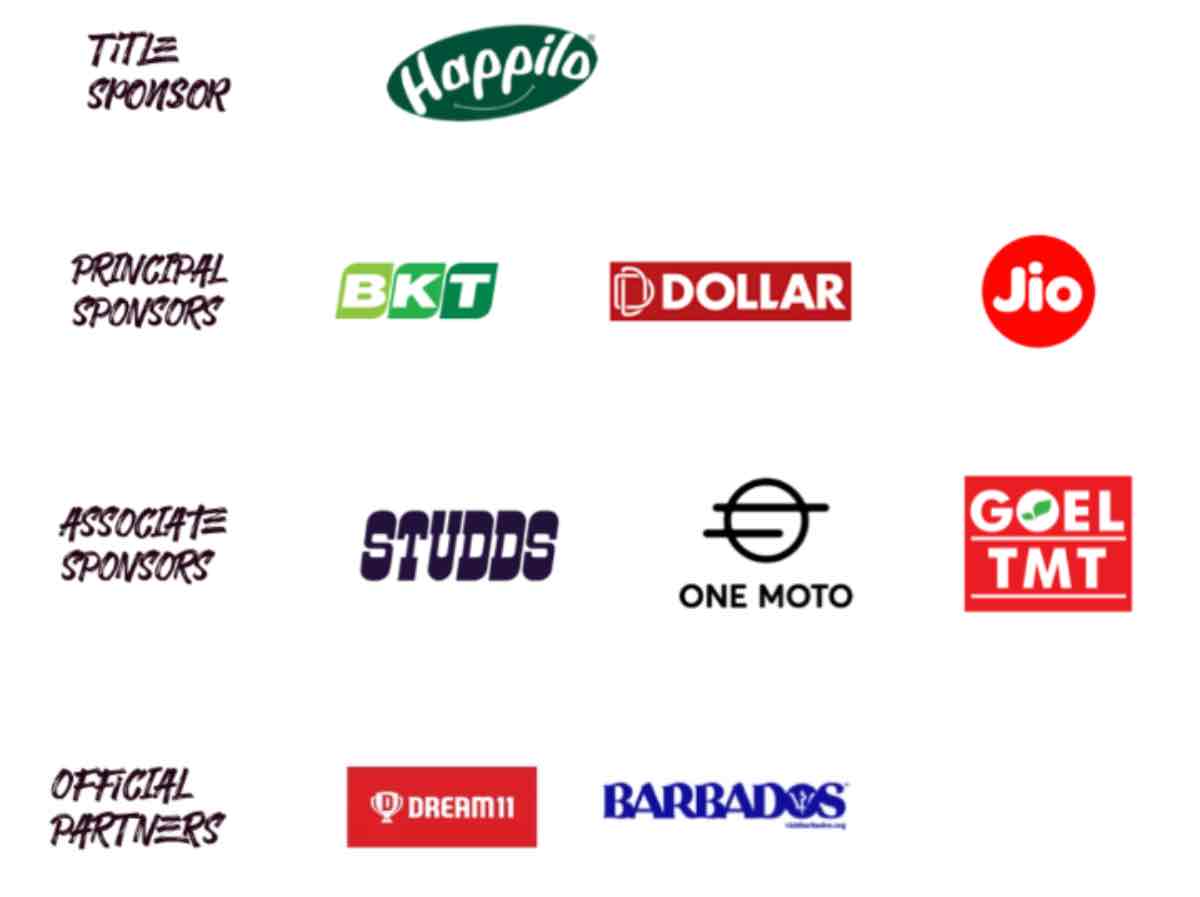 IPL 2022 Royal Challengers Bangalore Sponsors
Title Sponsors: Muthoot Fincorp
Principal Sponsors: DP World, Exide and Jio.
Associate Partners: Puma, MPL, PhonePe, boAT, Max Life Insurance and Nippon Paint.
Official Partners: Kingfisher, Myntra, socios.com, JGI, Milo, BKT Ture, Herbalife Nutrition, Kotak, Sosyo, iB Cricket, EUME, Fever 10.4FM, MX TataTak and DNA Networks.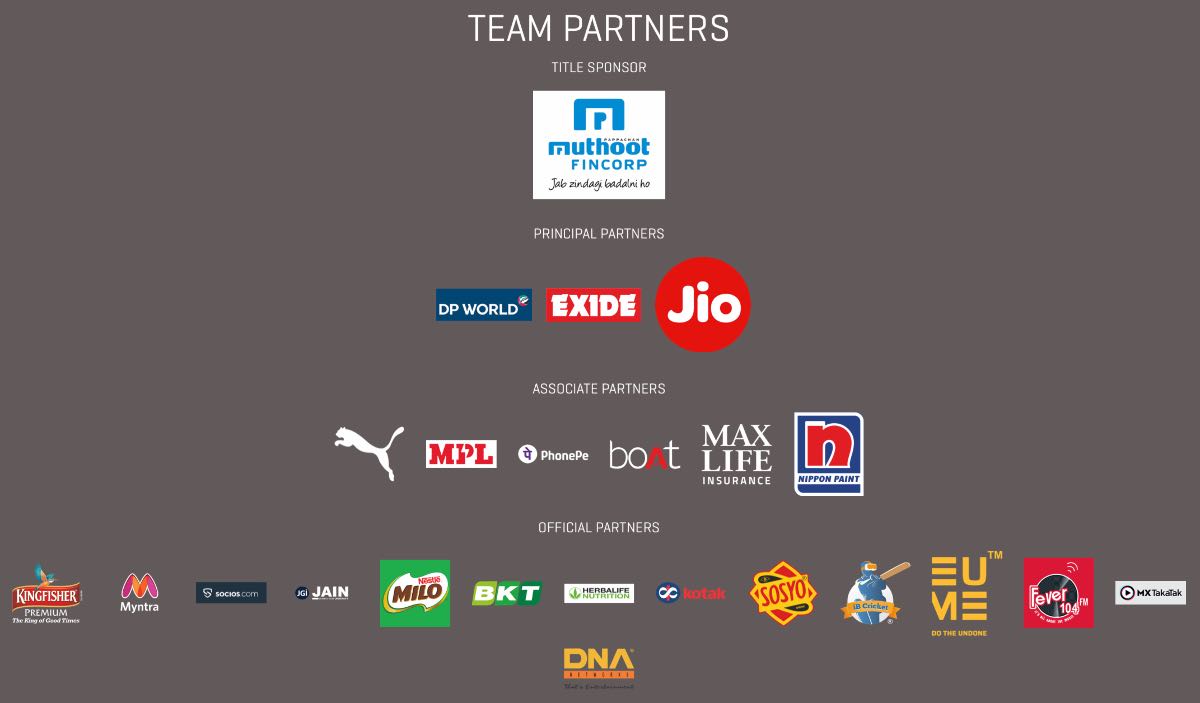 IPL 2022 Sunrisers Hyderabad Sponsors
Title Sponsor: Cars24
Principal Sponsors: BKT Tyre (Official Tire Partner), Kent Mineral RO, Jio (Official Telecom Partner), TCL (Official Sponsor, Dream11 and acko Insurance.
Other Sponsors: ThumsUP (Official Beverage Partner) and nbl.
Partners: Wrogn (Official Kit Partner), Fancode Shop (Official Fan Merchandise Partner), much (Official Crunch Partner), Kotak (Official Card Partner), Electrorush (Rehydration Partner), McDowell's (Celebration Partner), Red Fm 93.5 (Official Radio Partner) and Tenali Double Horse (Official Stamina Partner).