On Tuesday midnight, Indian skipper Virat Kohli shared a picture on his social media accounts and took a dig at India's no. 3 Test batsman Cheteshwar Pujara.
Kohli shared a picture of himself taking a one-handed airborne catch at second slip beside Pujara. Sharing the picture Virat Kohli wrote, "First session after lockdown be like ? @cheteshwar_pujara I hope you will go for the ball pujji ??"
Pujara was quick enough to reply to his skipper dig and wrote, "Yes captain, and I shall catch it with both hands ? @virat.kohli."
While other cricketers also replied to it, Kevin Pietersen wrote, "#FakeNews. You couldn't catch a cold in winter! ?". While Indian bowler Mohammad Shami compliment skipper with "Superman".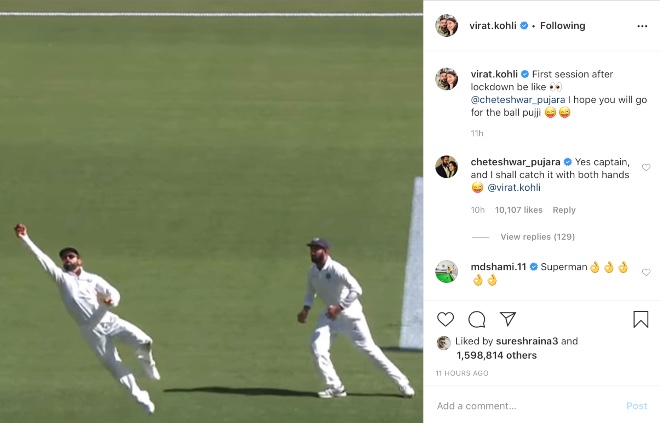 It looks like all the players are eagerly waiting to return on the field. All the sporting events around the world are postponed or cancelled.