It is known that Royal Challengers Bangalore (RCB) is the favourite IPL team of India football team's captain Sunil Chhetri. But now he had said that he will only RCB jersey.
Recalling an incident in an Instagram live chat with actor Danish Sait, Sunil Chhetri said that once there were talks to wear Delhi Capitals jersey but he refused it as he is an RCB fan and will wear only RCB jersey.
Sunil Chhetri said, "I am an RCB fan. There's a small conflict of interest. My owners are Jindal (JSW) who have BFC, but they also have Delhi Capitals. Initially, there were talks, not from the management… but Delhi Capital is coming to play, you should go and wear their jersey and be there. I said no chance. There is only one jersey, and that is RCB."
Delhi Capitals is owned by JSW who also owns the Bengaluru Football Club (BFC), Indian Super League (ISL) team for which Sunil Chhetri play.
Sunil Chhetri is also a close friend of RCB and India team skipper Virat Kohli. Two of them can often be seen hanging out together will their families.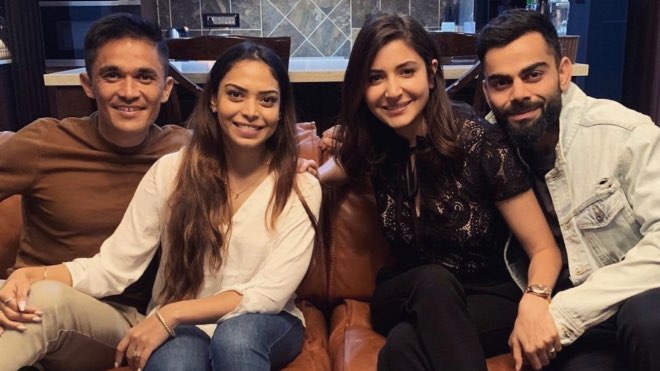 Once Sunil Chhetri was asked if would like to be a part of an IPL team by one of his followers on Twitter.
"If you get a chance to play cricket in which IPL franchise would you like to play??? #AskChetri @chetrisunil11", a twitter user questioned.
To which he replied that he is a Bangalore boy.
"I'm a Bangalore boy. That should answer your question", answered Chhetri.
I'm a Bangalore boy ? That should answer your question. https://t.co/XF0OZxcfwR

— Sunil Chhetri (@chetrisunil11) March 20, 2020
RCB were quick to acknowledge the captain and tweeted an animated jersey of Sunil Chhetri with no. 11.
We're ready when you are @chetrisunil11! ?#PlayBold https://t.co/hZqSsHxNPv pic.twitter.com/CCp1wyQ4vq

— Royal Challengers Bangalore (@RCBTweets) March 20, 2020