Magnus Carlsen won the Magnus Carlsen Invitational online chess tournament. Magnus Carlsen beat the Hikaru Nakamura in the finals.
The first game between Hikaru Nakamura and Magnus Carlsen was a long, 84 move game and Carlsen won it. Hikaru Nakamura won the second game to make a comeback, but Magnus Carlsen maintained his lead by winning the third game.
In the fourth game, Hikaru Nakamura ahead all round but made a mistake in the 51st move and it gave a chance to Carlsen to come back and the game ended in a draw.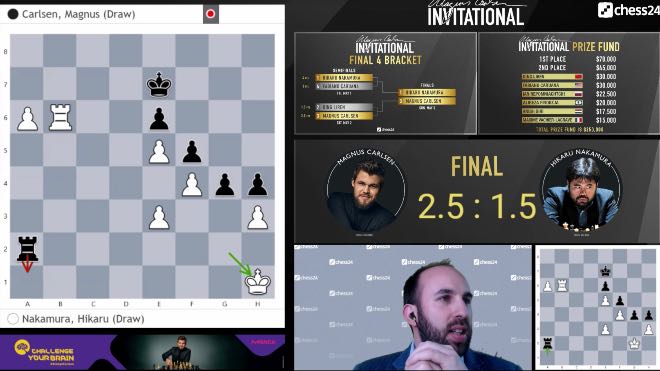 MCI Final Prize Money
Carlsen won the match by 2.5-1.5 against Hikaru Nakamura. Magnus Carlsen won the $70,000 prize money while Hikaru Nakamura won $45,000 as runner-up prize money.
Prize Money won in MCI
Total prize fund for Magnus Carlsen Invitation was $250,000. Prize money split has been as follows:
Magnus Carlsen – $70,000
Hikaru Nakamura – $45,000
Ding Liren – $30,000
Fabiano Caruana – $30,000
Ian Nepomniachtchi – $22,500
Alireza Firouzja – $20,000
Anish Giri – $17,500
Maxime Lagrave – $15,000